Collective Coherence
by Matthew Boeing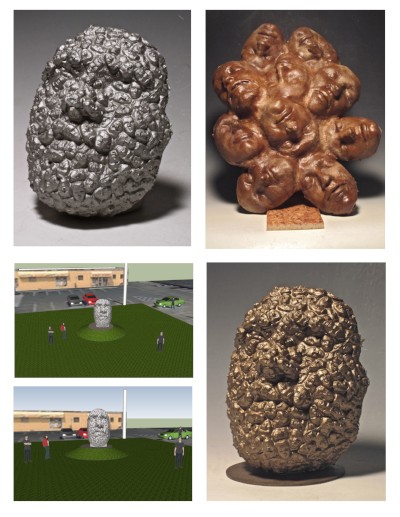 Words from the artist:
In this project I seek to evoke a sense of pride for the Lawrence community by creating a landmark that is engaging and recognizable. The face is one of the most recognizable features of the body and can tell us much about each other. I want to depict the face of Lawrence as it is transforming and expanding. In this project I want to address the diversity and the strong sense of community that is embodied by the city of Lawrence by bringing together the imprint of many members of the community. This project will create a monument that the citizens of Lawrence can be proud of and visitors will be impressed by.
I would like to invite the citizens of Lawrence to be involved in parts of the fabrication process to incorporate their own mark on the sculpture. Interested volunteers will be able to learn and participate in the process of life casting and molds of their faces may be incorporated into the final sculpture.
This sculpture has been completed and is being stored at Herron Sculpture Facility.  Please direct your questions about installation to the City of Lawrence: 545-6191
Thank you to all the community members who came out to participate.
This project made possible through the partnership between the City of Lawrence Redevelopment Commission and the Herron School of Art & Design's Basile Center for Art, Design and Public Life.