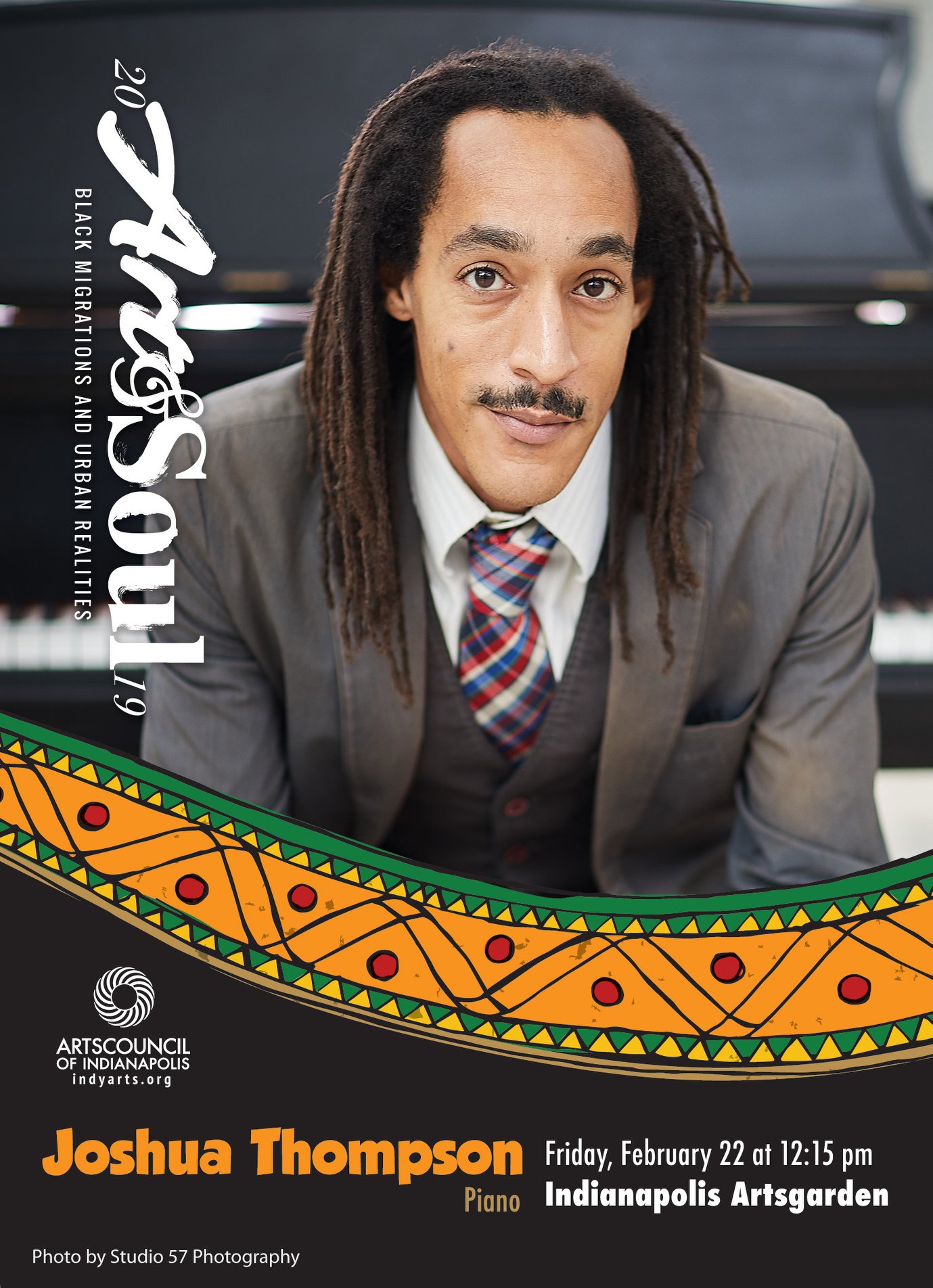 We invite you to connect with local artists who make, create, perform and do! Each week we will feature a local artist for Talent Tuesday!
This week, we'd like you to meet classical pianist, Joshua Allen Thompson.
1. What makes your art unique?
As a pianist, I program and perform the classical masterworks written by composers of African descent. These works and the histories of those who contributed them to the world of classical music, are widely unknown and rarely performed. I use the vast catalogue of these genre-defining composers to perform, elevate and challenge those within and outside of classical music to look deeper and more comprehensively into the unsung versatility and relevance of the genre.
2. Do you live in Indiana?
Yes.

3. Connect with the artist:
Connect on Facebook
4. Media Sampling:
Summerland, Performed by Joshua Thompson
-media credits-
*Headshot. Photo Credit: Paul de-Angelo Best
*Village Voices: Notes from the Griot graphic. Graphic Credit: Adreia Hawkins of Ahmagine Graphx™ LLC
*Artist spotlight video. Video credit: Ben Rose of The Identity Complex
*Arts Council of Indianapolis' Art & Soul 2019 Featured Artist headshot: Photo Credit: Studio 57 Photography
*Promo graphics feat. Operatic Soprano, Angela Brown, TribeSouL and Chreece Hip-Hop Festival, and Jared Thompson/Steven Jones of Premium Blend Blend as part of my Performer in Residence Series w/the Marianne Tobias Music Program at Eskenazi Health. These programs exclusively feature music from composers of African descent while collaborating with other artists across musical and artistic genres.
*Graphic Credit: Adreia Hawkins of Ahmagine Graphx
Arts for Lawrence (AFL) is a 501(c)3 nonprofit organization that connects arts and community to inspire everyone every day. Founded in 2006, AFL emerged as a response to the need for improving the cultural environment in Lawrence Township, Indiana.