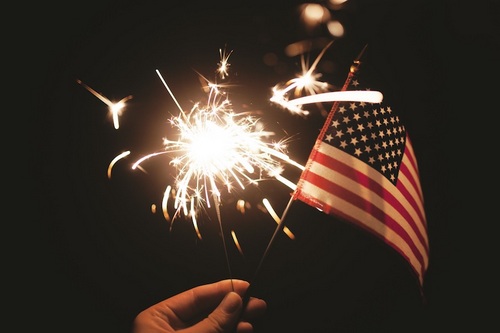 Happy Independence week! The Fourth of July is this week, and the week is filled with a variety of different festivities, activities and celebrations commemorating the holiday. Whether it's the parade, carnival or one of the other exciting Fourth Fest activities happening here in Lawrence, Independence Day is the perfect day for everyone in the community to come together and celebrate our nation.
The fourth is such a special holiday for our nation, and what better way to celebrate it than focusing on ways to give back! As we are half the way through the year, this is the perfect time to get involved in your community and help make it a better place! Looking for opportunities for this week and on-going? Check out our list of volunteering opportunities.
1. Theater Beautification Day!
Calling all handy(wo)men. We have a few projects that need to be completed and we just don't have enough hands to do them ourselves. Can you spare a few hours this Saturday, July 7th from 9am-? to come and help us out? Even if you only have an hour or two to give, it will mean the world to us!
2. Administrative Volunteers.
Do you have a couple of hours during the day each week to come and help Arts for Lawrence with admin duties? We are always looking for community members who'd like to donate a few hours of their time to help with answering the phone, greeting visitors, helping sell theater tickets and more. Sounds like something you'd be interested in or interested in more information? Contact leciafloyd@artsforlawrence.org with your availability.
3. Event/Performance Volunteers.
We program the Theater at the Fort on a year-round basis with everything from dance, theater, concerts and more! Running a theater truly takes all hands on deck, and we could use yours! Our event/performance volunteers tend to give about 3 hours of time on a weekend helping to run Box Office, Ushering or Concessions. As our give-back to say 'thank you', you are able to see the show you volunteer for, for free. You can check our sign-up genius for available opportunities. https://bit.ly/2JSHjOK
4. Marketing Distribution Volunteers.
At least once a month we have marketing materials printed (post cards, table tents, yard signs, etc.) that we need help distributing. We have a comprehensive list of restaurant and business partners that allow us to place our materials in their locations, but we need help getting them out. If this is something you're interested in, please contact leciafloyd@artsforlawrence.org
5. Committee Volunteer.
Being a non-profit organization means it takes many hands and skills to make this a well-oiled machine. We have several committees that could use whatever skill set you possess. We have fund development, performance, visual arts, marketing, building and grounds, events committee and more! Interested in learning more about committee or board positions? Contact judybyron@artsforlawrence.org
Not able to give of your time, but want to make a difference by making a monetary donation? You can designate what area you would like to make a difference or donate to the general fund and we will put the money toward our biggest need at the time. You can make your tax-deductible donation here: https://bit.ly/2HfEJMG
As you and your family reflect on what is special about the fourth, we encourage you to discuss how important it is to give back to your community. We hope you and your family will consider donating your time to Arts for Lawrence. We have opportunities for all ages!